Yesterday marked the start of Hispanic Heritage Month, an annual celebration to honor the history and culture of Hispanic and Latin heritage.

With more than 30% of Central Florida's population identifying as Hispanic or Latino, residents and visitors will easily find cultural exhibitions, educational forums, uplifting arts, festivals, and more to commemorate the month.

Staying true to our vision to become the most visited, welcoming and inclusive travel destination, Visit Orlando continues to prioritize programs and communications to tell the story of our diverse destination.

For Hispanic Heritage Month, we partnered with local Instagram influencer, Jocelyn Aranda, to experience Spanish cuisine and live entertainment in a social media takeover at popular Orlando restaurant Tapa Toro Tapas Bar & Paella Pit.

We also published a Hispanic Heritage Month blog that highlights many things to do including an art exhibit, created by local artists, highlighting Hispanic culture at The Mall at Millenia; a cultural fashion show at The Florida Mall; a Taste of Latino Festival in Kissimmee; end of month celebration and much more.

In addition to these initiatives and events, Orlando's popular Hispanic and Latin restaurants offer a special way to celebrate Hispanic Heritage Month. From our destination's extensive dining catalog, four are recognized in the MICHELIN Guide. They include:
We encourage everyone to explore the destination, commemorate Hispanic Heritage Month and learn about Orlando's very own Hispanic and Latin American history and culture. 
 

Visit Orlando's 17th Annual Magical Dining Program

While we're already three weeks into Visit Orlando's Magical Dining program, there's still plenty of time to enjoy three-course, prix-fixe dinners for only $40. Visit MagicalDining.com to make reservations and view the list of participating restaurants. The program ends Oct. 2.

As a reminder, one dollar from every meal served will benefit The Able Trust, an organization that works to expand career opportunities for people with disabilities. In addition, one charity from each of Orange County's districts will be awarded $2,000. Learn more.
 

Expanding out OTA Footprint

In addition to Tripadvisor and Expedia, we are expanding our online travel agency (OTA) partnerships to include Priceline, Booking.com and the fastest growing mobile travel app, Hopper. The addition will drive hotel bookings for the remainder of the year and solidify early 2023 travel demand.

The campaign will run now through December and target Florida and Orlando travel intenders east of Mississippi and Texas with display banners, branded notifications, a custom Visit Orlando destination microsite and more.
Hotel Metrics

For the week ending September 10, 2022, Metro Orlando occupancy was 59.3%, down slightly from last week's 60.6% but higher than the same week in 2019 (58.5%).

Average daily rate fell slightly to $118.70 from $120.35 last week but remains much higher than pre-pandemic rates ($102.90 for the same week in 2019).
Around the Destination

East Orlando Chamber of Commerce: Kristin Westover, director of community relations and external affairs, and I met with Andrew Cole, president at East Orlando Chamber of Commerce, to discuss our continued partnership and ways we can work together to promote and engage with our local neighborhoods across the destination.
 
Executive Leadership Mission: This week, I attended Orlando Economic Partnership's (OEP) Executive Leadership Mission in Denver. The mission united elected officials, business professionals and community leaders to learn about Denver's strategy in tackling transportation challenges. The mission also provided insight on their tech and downtown community, newest brand launch and venues.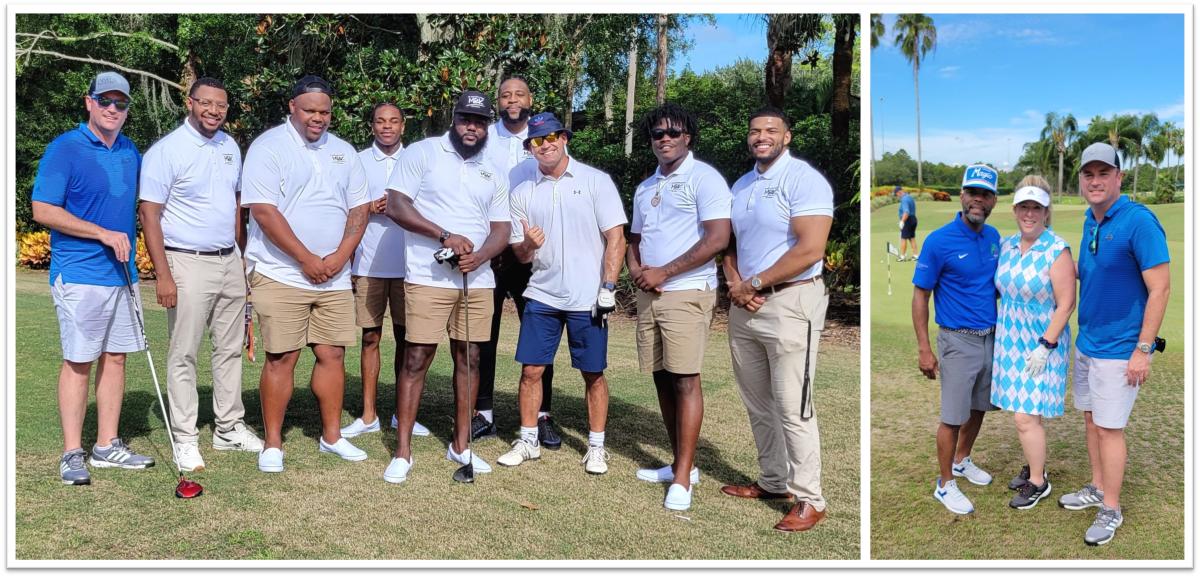 FORE! Children's Celebrity Golf Tournament: Visit Orlando's director of membership, Sarah Welsh, teamed up with Jess Lott from the Orlando Magic and Peter Maggio from Planet Hollywood to participate in Orlando City Commissioner Barkari Burns' annual golf tournament at Hawk's Landing. The tournament helped raise funds for My Brother's Keeper and will also provide scholarships to families in District 6.
 

Orlando Partner Forum: On Tuesday, Expedia Group hosted their annual Orlando Partner Forum at Walt Disney World Swan Reserve. Visit Orlando's Maria Henson, director of market research and insights, shared Orlando's latest travel trends at the general session and Danielle Hollander, chief marketing officer, joined Silvia Camarota, senior director at Expedia, at the closing session to help wrap up the "Made to Travel" event and highlight our partnership in the Orlando market. 
 

Team Member Award: Yesterday, the International Drive Resort Area Chamber of Commerce hosted their monthly luncheon. Brandon Dodrill, membership engagement manager, was awarded Ambassador of the Month. Congratulations, Brandon, on this great achievement!