This week, we announced the return of an anticipated program across our destination — Visit Orlando's Magical Dining, Aug. 26 through Oct. 2.  
 
Prepare to plan your experiences early, wine and dine, book a unique staycation and support our local restaurants — all for a great cause!  
 
More than 100 dining venues — six recently recognized on the MICHELIN Guide and 16 new to the program — with a great variety of food genres will offer three-course, prix-fixe dinner menus for $40.  
 
For our charitable partnership, this year's beneficiary will focus on the community challenge of workforce development and career readiness.  
 
We are pleased to share that through Visit Orlando, one dollar from every meal served will be donated to The Able Trust, an organization that helps expand employment opportunities for people with disabilities.  
 
In addition, Visit Orlando will award a $2,000 donation to one local nonprofit also focused on workforce development in each of Orange County's six commission districts.  
 
Visit Orlando's Magical Dining truly impacts our local community. In the past, we've focused on homelessness, lack of food resources, mental health, suicide prevention and more. Since 2009, more than $2 million has been contributed to local nonprofits.  
 
The servings don't stop there. To enhance Visit Orlando's Magical Dining, we've continued Visit Orlando's Magical Nights, a unique element that encourages diners to turn their night in town into an affordable, end-of-the-summer Orlando staycation at one of our local hotels.  
 
Visit OrlandoMagicalDining.com for more information, to look at menu options, book reservations and explore hotel offers. Additional menus and hotel deals will be added soon. Plus, My Visit Orlando's Magical Dining Favorites is available for diners to build a personalized online wish list.

Make your reservations early — I've already secured mine. Let's unite and make this the best Visit Orlando's Magical Dining season ever!


Save The Date: Visit Orlando's Signature Luncheon

Registration is now open for Visit Orlando's Insights Luncheon & Economic Forum, Aug. 23 at Hilton Orlando. The morning session will feature Anirban Basu, chairman and CEO at Sage Policy Group, and Visit Orlando's director of market research and insights, Maria Henson. The luncheon's keynote speaker will highlight Raven Solomon, global diversity, equity, and inclusion thought leader. 
 
During the morning session, Anirban will provide an in-depth analysis of the major factors shaping economic outcomes and a forecast for the year to come. Maria will give a year-to-date overview of Orlando's travel and tourism performance so far in 2022 and an outlook for the rest of the year into 2023 including key shifts and trends impacting the travel industry.  
 
At the luncheon, Raven will provide insight on how to be an inclusive leader and provide necessary steps to better attract and retain the future of the workforce through an often-overlooked lens. Also, our region's new global brand, Unbelievably Real, the transportation initiative and ever-popular Visit Orlando's Magical Dining and Magical Nights program will be discussed. 
 
Secure your spot now, seats are filling up fast! Corporate tables are available for purchase. Register here and email Kelly Kinney for details.
Share Events with Visit Orlando

Visit Orlando's events calendar is one of the most robust in the region, offering a lineup of more than 500 unique experiences at a time. Visit Orlando's membership base and organizations across Central Florida are highly encouraged to submit events using our friendly landing page to promote things to do for residents and global visitors. For questions, email our editorial brand manager Nate Shelton.
Key Tourism Indicators

For the week ending July 16, 2022, Metro Orlando occupancy was 76.9%, up from last week's 68.7% and less than three points away from the same week in 2019 (79.6%). Average daily rate rose to $142.22 from $135.85 and increased significantly from pre-pandemic levels ($113.86 for the same week in 2019).  
 
For the month of June 2022, Orlando's occupancy was 76.5% up from 70.5% in May and up from 67.7% a year ago. Average daily rate in June was $149, up slightly from May's $145 and still much higher than pre-pandemic rates ($121 in June 2019). Room night demand increased by 24% from the prior year and surpassed 2019's demand by nearly 3%. 
Across the Industry

British Consulate: Elaine Blazys, VP of travel industry sales, Phil White, travel industry sales director, and I joined the British Consulate at their sports, trade and travel reception celebrating the Central Florida and United Kingdom relationship.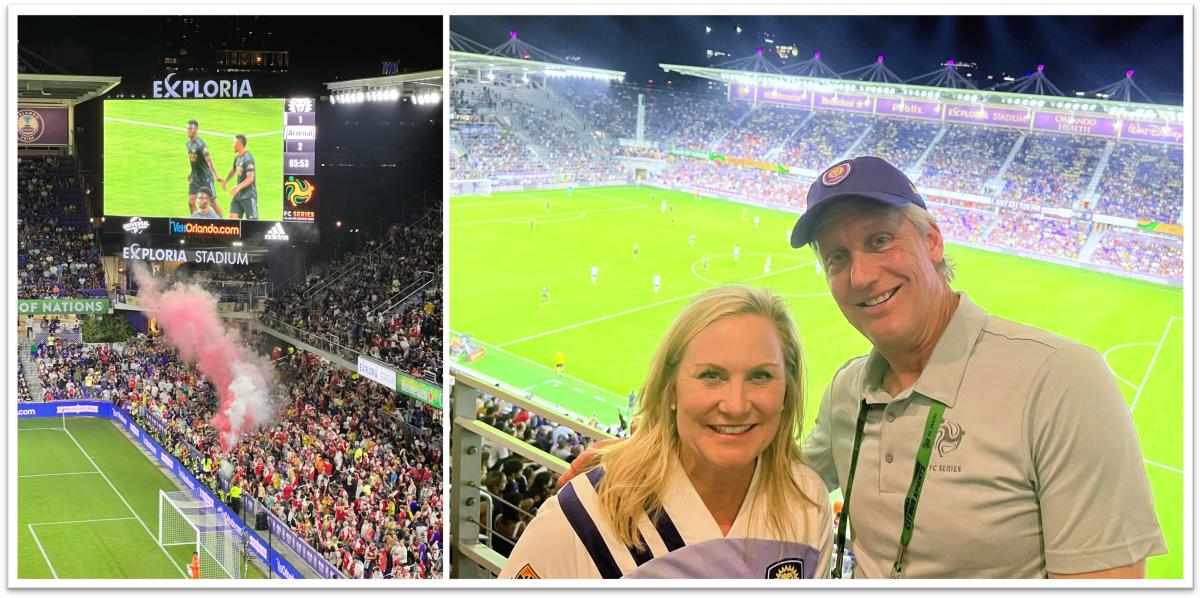 English Premiere League: Visit Orlando team members attended the FC Series' Clash of Nations at Exploria Stadium to see Chelsea take on Orlando City Soccer. The excitement continues for the English Premier Football League as rivals Arsenal and Chelsea gear up to face off at the Florida Cup tomorrow.   
 
Orlando Economic Partnership: Visit Orlando team members toured Orlando Economic Partnership's new office during their open house reception. As industry partners, we extend our congratulations and are thrilled to celebrate this milestone.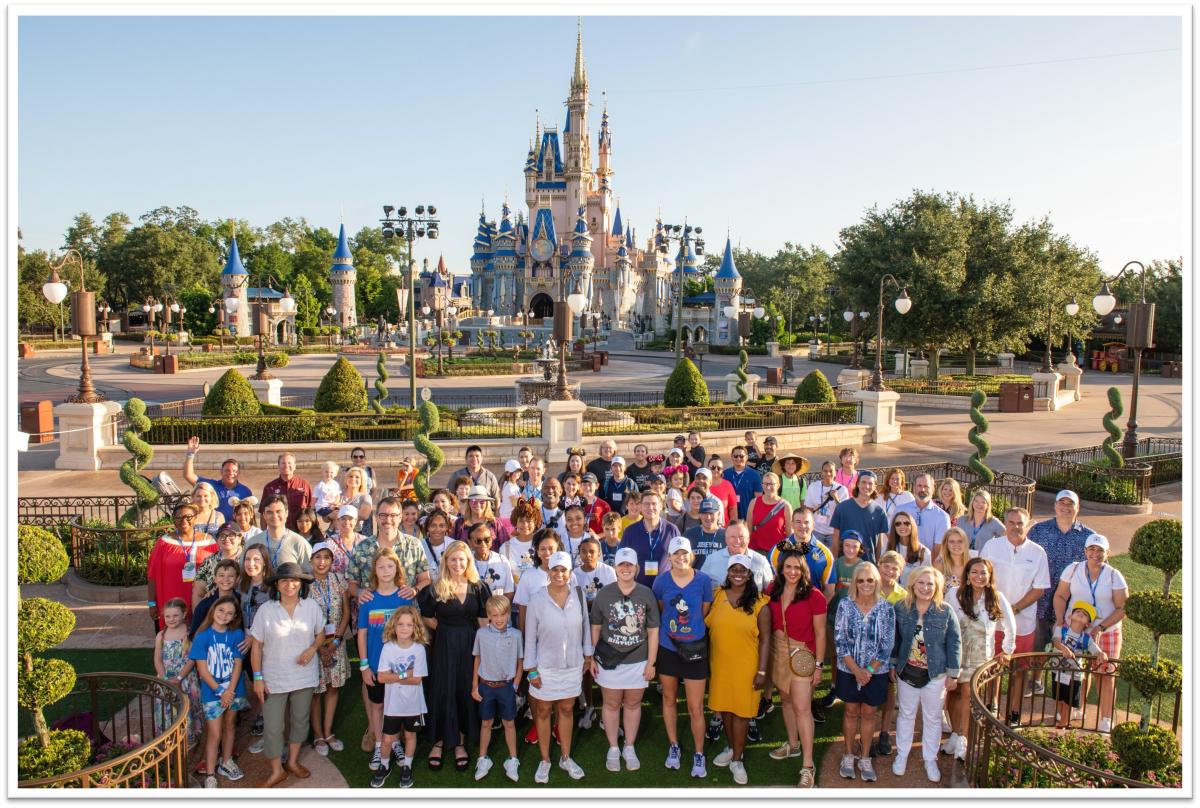 Texas Lyceum: The Texas Lyceum hosted their Life's Better in a State of Travel program last week. Leaders, attendees, members and alumni from companies across Texas met in Orlando to discuss issues related to the state of Texas and our nation.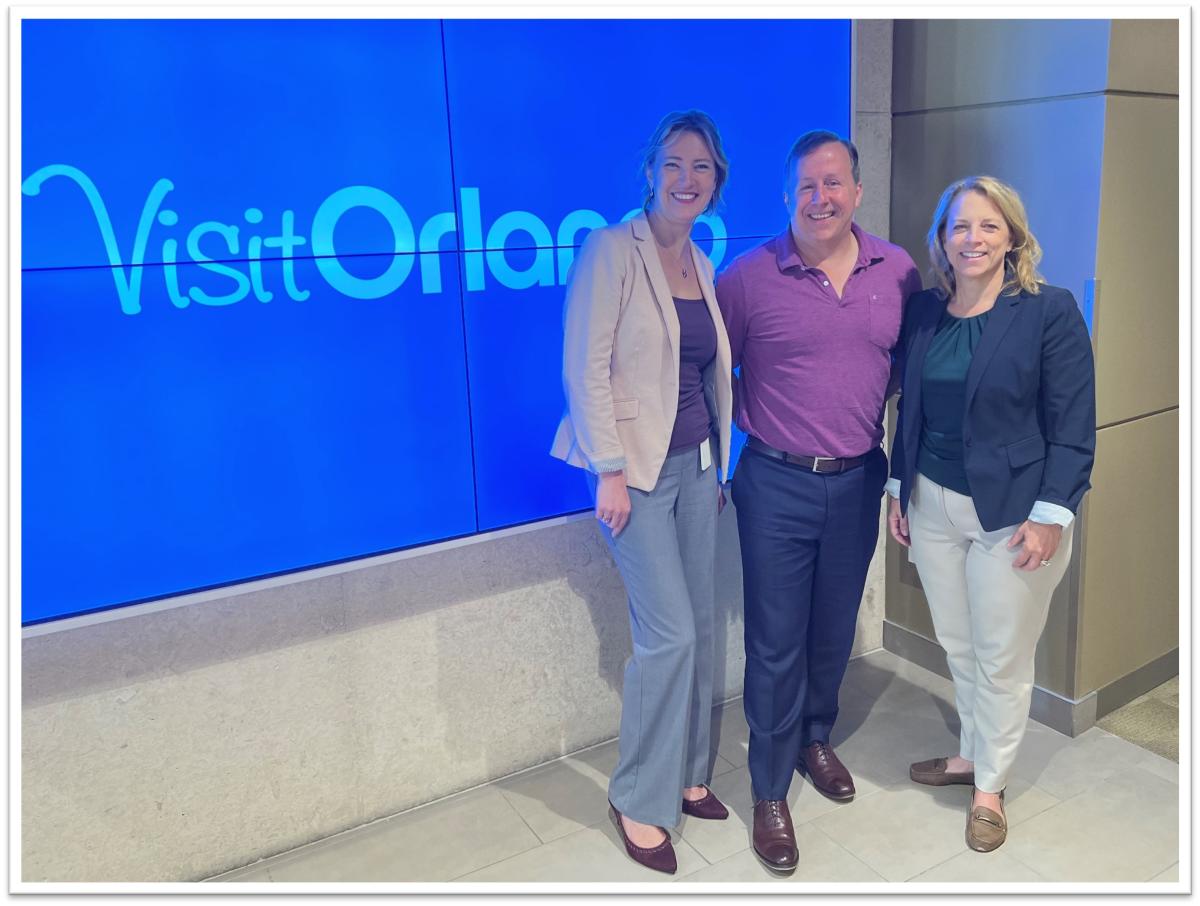 Destination Analyst: Chief marketing officer, Danielle Hollander, and director of market research and insights, Maria Henson, met with Dave Bratton, founder and managing director at Destination Analyst. Dave provided weekly tourism industry updates throughout the pandemic and joined the Texas Lyceum as a speaker.  
 
Destinations International Convention: Stan Rubins, VP of external affairs and legal counsel, and Mike Waterman, chief sales officer, represented Visit Orlando at the Destinations International Convention, an opportunity for destination marketing organizations from around the globe to share best practices. Mike also served on a panel for a session on the state of the global international traveler, where he discussed best practices on driving international tourism recovery.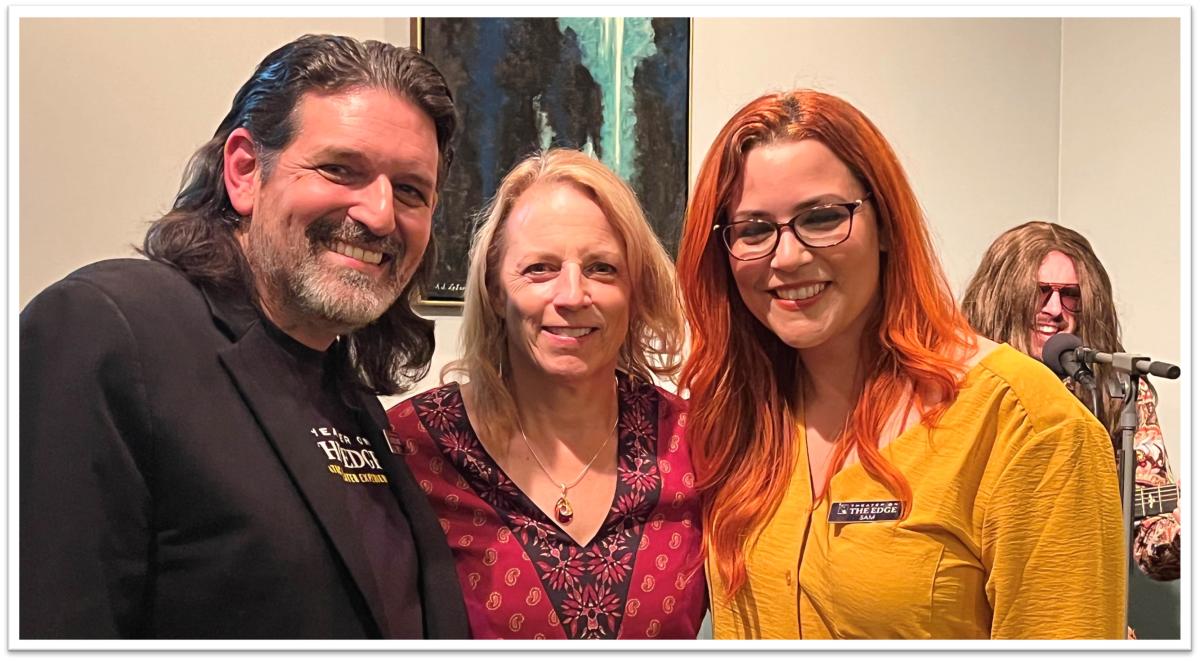 Theatre on the Edge: Danielle Hollander attended the re-opening show Say Goodnight, Gracie of Theater on the Edge, an organization new to Visit Orlando's membership. The theater closed during COVID and has officially re-opened presenting live performances to its audiences.