When to Holiday in Orlando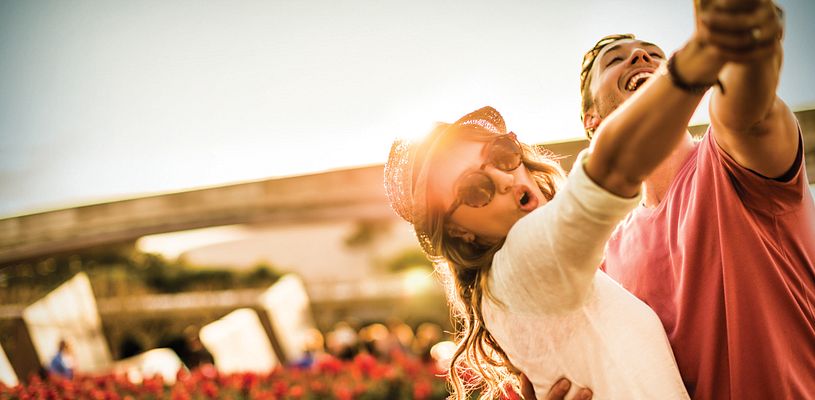 Any time is a fantastic time to travel to Orlando, which is open 365 days a year. Like any favourite destination, it is busier and prices can be higher during school holidays as well as festive and special celebrations, but, unlike other top hotspots, you will always be able find your own space in this enormous fun-filled destination. Even in the hot summer months, there are places to escape the crowds, relax and cool off.
Peak vs. Off-Peak
Orlando hosts visitors year-round but certain times of the year are busier than others:
The busiest months are from the end of May until the middle of August.
Peak times are more expensive such as Easter and the summer. The crowds are at their highest during the summer weeks when both American and British schoolchildren are on holiday.
The second half of August to early September offer best values of the year.
For more flexibility at a quieter time, visit between October and December.
After Easter, the months of May and June are also a good option.
Festivities & Events
Consider visiting Orlando during a holiday or special event to take advantage of some of the unique and memorable activities. If you have a choice of when to go, knowing what exciting things are happening and when will help you decide.
Key Holidays
The Americans know how to celebrate and Orlando hosts extra special events during certain holidays.
Christmas - every park goes to town with processions, parties, trees, decorations, and, of course, Father Christmas and a touch of snow, even when the sun's shining! Plus Christmas starts early in Orlando so you can enjoy a touch of festive season from late November.
New Year - parks stay open to welcome in the New Year with fireworks, music, dancing, eating and drinking.
Easter - put on your Easter bonnets to enjoy parades and egg hunts.
Memorial Day - the last Monday in May sees parades and services to commemorate the military.
Independence Day - fireworks light up the sky on the 4th of July.
Labor Day - rallies, picnics and parades on the first Monday in September.
Thanksgiving Day - parades on the streets and turkey dinners in the hotels and restaurants, on the 4th Thursday in November. Spectacular sales at the malls the day after, much the same as our Boxing Day sales.
Special Events
There are hundreds of festivals throughout the year whatever your tastes including food and wine, music, sports and art. Worth catching are:
Mardi Gras - in February or March with concerts, street performers and parades.
Halloween - the Theme Parks stage spooky events for weeks leading up to the 31st of October.
Weather & Climate
One of Orlando's greatest gifts is the year-round sunny weather. In keeping with the "Sunshine State", Orlando maintains a comfortable average annual temperature of 22 degrees C and remains mostly dry from October to May.
Hot and humid in the summer with afternoon showers from May to August.
Spring and autumn are warm and sunny.
November to February are still sunny, but evenings can be slightly chilly.
See below for a temperature (Celsius) and rainfall grid to help plan your best time to visit Orlando.
| Month | Hi Temperature | Lo Temperature | Precipitation (inches) |
| --- | --- | --- | --- |
| January | 22 | 9 | 2.30 |
| February | 23 | 10 | 3.02 |
| March | 26 | 13 | 3.21 |
| April | 28 | 15 | 1.80 |
| May | 31 | 19 | 3.55 |
| June | 32 | 22 | 7.32 |
| July | 33 | 23 | 7.25 |
| August | 33 | 23 | 6.78 |
| September | 32 | 22 | 6.01 |
| October | 29 | 19 | 2.42 |
| November | 26 | 14 | 2.30 |
| December | 23 | 11 | 2.15 |
More Holiday Planning Tips
Travelling to Orlando | Getting Around Orlando | Orlando Tips