Orlando Outdoors & Ecotourism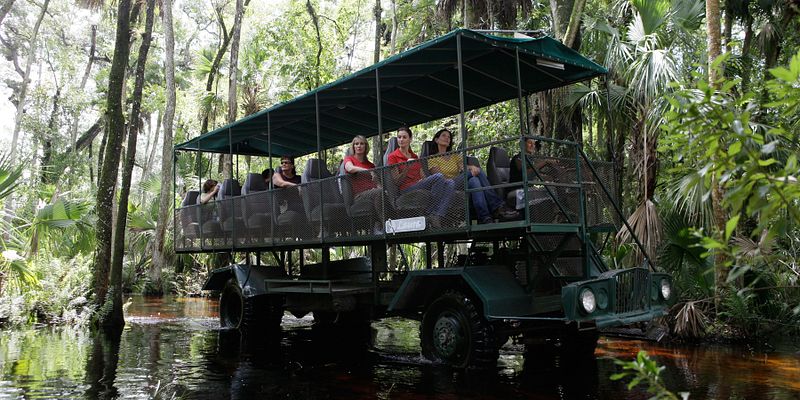 Eco-travel is on the rise according to the World Travel Organization, and here in the heart of Florida, a state named for flowers and sunshine, Orlando's natural beauty is the perfect counterbalance to the rush of theme park fun. Eco-tours, natural springs, airboat & swamp tours, birding, nature trails, nature parks and kayaking are just a few of the options for exploring Orlando's great outdoors. Whether peaceful paddling through spring-fed lakes or hang gliding 2,000 feet (609 meters) above orange groves, visitors can dive into a variety of lush ecosystems, all within driving distance of the tourism district.
Orlando Airboat Tours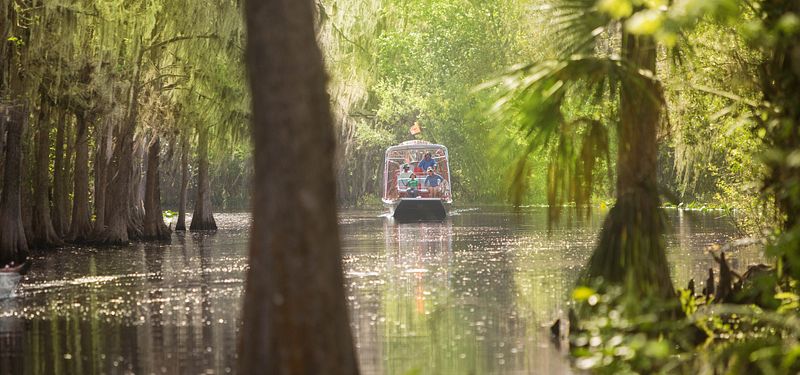 A classic Florida experience, airboat rides offer an up-close look at native wildlife and dazzling views as you glide across tranquil wetlands at up to 50 mph. Try Spirit of the Swamp for small & private tours, and Wild Florida for the amazing wildlife park, included in the ticket price.
Springs Near Orlando
Crystal-clear waters make for perfect scuba diving, snorkeling and swimming, and visitors can find all three at several pristine natural springs, less than an hour's drive from Orlando. Wekiwa Springs State Park offers just about everything nature-lovers could want, from trails and canoe rentals to untouched wild vistas and family-friendly play areas. Famous for its annual influx of manatees, Blue Spring State Park is popular in the colder months, but offers beauty and adventure year-round. A favorite spot for tubing, Kelly Park features a free-flowing natural spring and Rock Springs, a clear, swift creek. Just a bit further out, De Leon Springs State Park combines all the beauty of natural Florida springs with a historic and delicious addition: the popular Sugar Mill Restaurant, operating inside a 100 year-old replica of the original 1830s sugar mill, and famous for the option to cook your own pancakes at the table.
Orlando Nature Trails and Parks
For hiking, biking and other outdoor activities, Orlando's many nature parks and preserves are a treasure trove of wildlife you can explore without getting wet. Visitors to The Nature Conservancy's Disney Wilderness Preserve can walk through 12,000 acres of protected natural habitat to see conservation in action. Fans of a good bike ride will love The West Orange Trail, featuring 19 paved miles (30.6 kilometers) with restroom and picnic facilities. Out-of-town guests can grab a ride through Orlando Bike Share for a small hourly fee, with bike rental hubs across downtown. Horseback riding, pony rides and horsemanship training are available for all skill levels at various locations, including Forever Florida - Ziplines & Adventures in the Wild and Westgate River Ranch.
Wildlife and Birding in Orlando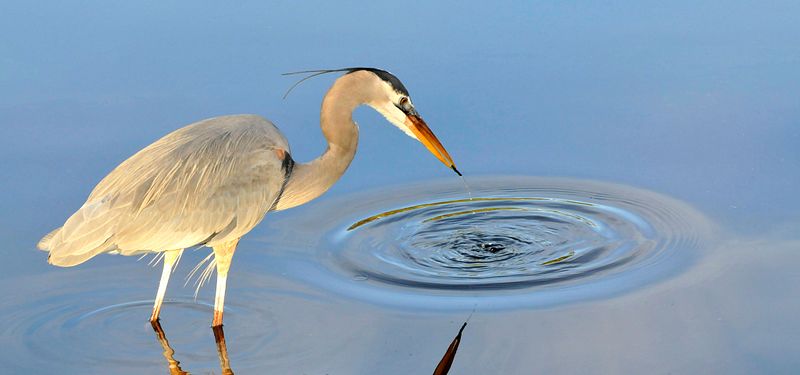 As migration patterns send scores of wildlife south in colder weather, Orlando's moderate climate becomes a popular haven. Photographers and birders find their paradise here, among areas like Lake Apopka, a magnet for nesting and migrating birds, lured by the lake's acres of undeveloped shoreline. In fact, more than 360 different species of birds have been identified in the Lake Apopka North Shore, more than any inland site in the state of Florida, from Bald Eagles to Great Blue Herons, Snowy Egrets and Anhingas. True bird-lovers and wildlife fans won't want to miss the Lake Apopka Wildlife Festival & Birdapalooza held in winter each year, offering free birding & nature tours, live entertainment and vendors for food and Florida artisan goods. The Great Florida Birding and Wildlife Trail is another good resource for wildlife viewing sites, with 17 highlighted in Orange County alone. A favorite of photographers especially is the Gatorland Bird Rookery, where over 20 different species of nesting, foraging and roosting birds thrive. From Feb. 2 - June 11, photographers and birding enthusiasts can enter the park at 7:30 am on select days for some of the best access to wildlife in nature possible. For a guided Bird Watching Tour with a local expert, Central Florida Nature Adventures offers expeditions near the Orlando area, where Florida Scrub-Jays, Limpkins and Purple Gallinules might be spotted.
Kayaking in Orlando
Tranquil and enchanting, Orlando's many opportunities for kayaking and canoeing are not to be missed. Visitors can opt to stay at the Ritz Carlton or JW Marriott Orlando, Grande Lakes, for guided canoe or kayak tours of Shingle Creek, the Headwaters to the Florida Everglades. Peace of Mind Kayak Tours combines the beauty of towering cypress trees with views of million-dollar homes along the shores of Winter Park's beloved chain of lakes. History, nature and old money combine here for a one-of-a-kind eco-tour.
Outdoor Thrills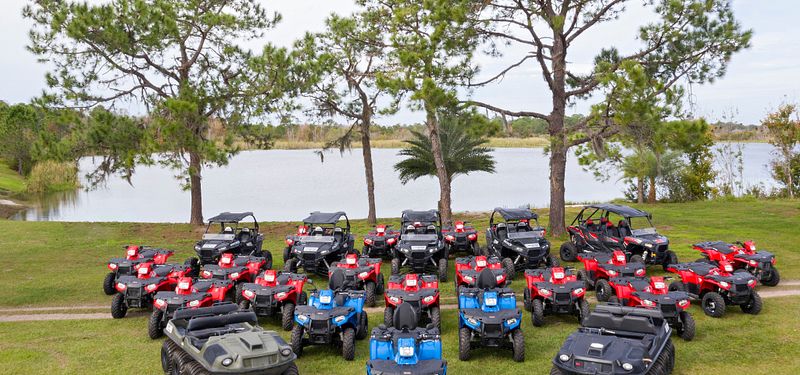 Orlando's natural flora and fauna offers a relaxing escape for some guests, but for those who crave a wilder ride, Orlando Skydiving and Skydive Space Center offer the world's highest tandem jump from 18,000 feet (5,486 meters). At Revolution Off-Road Experience, guests take the wheel of an all-terrain vehicle, Hummer, Jeep Dune Buggy or high-speed rally car for a few hours of pulse-pounding off-road fun. – Forever Florida - Ziplines & Adventures in the Wild features the first zip line experience in the state and first zip line rollercoaster in the U.S. called The Rattlesnake. The Zip line Safari takes guests on a treetop nature tour reaching heights of 55 feet (16.8 meters) and speeds up to 25 mph (40.2 kph). Central Florida ZOOm Air Adventures, Zip Orlando Canopy Tours and Orlando Tree Trek Adventure Park also offer zip lining opportunities for all ages. Gatorland's Screamin' Gator Zip Line carries riders over gators along 1,200 feet (366 meters) of high-flying adventure up to 56 feet (17 meters) high and nearly 30 mph (48 kph).
Get a glimpse of Orlando's Outdoor thrills with national travel correspondent Sarah Sekula in the below videos.