Things to Do in Orlando Besides Theme Parks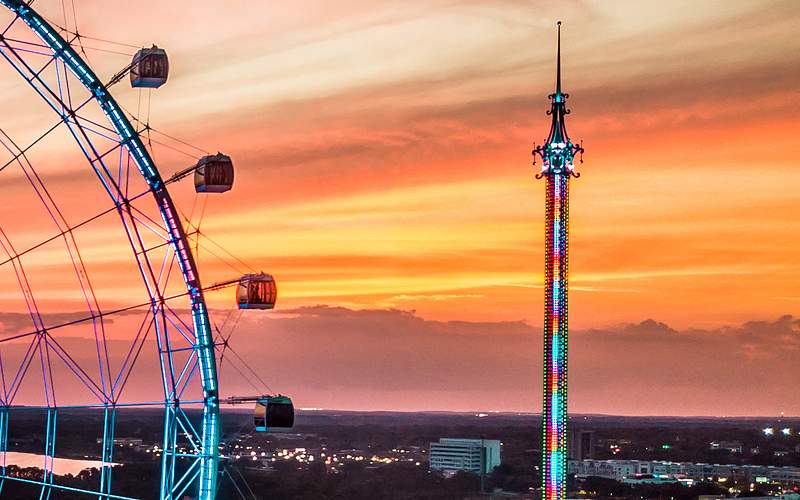 When it comes to filling your vacation itinerary, Orlando offers no shortage of things to do. Known as the Theme Park Capital of the WorldSM, Orlando is home to four major theme parks — Walt Disney World®, Universal Orlando®, SeaWorld® Orlando and LEGOLAND® Florida. But did you know Orlando offers plenty of recreational activities beyond the theme parks, not to mention unique, indoor attractions for those rainy days? To guide you, we've compiled a list of Orlando's top outdoor and indoor attractions, including unique dining experiences.
Outdoor Attractions and Activities in Orlando
The opportunities for outdoor fun are endless throughout the destination. Below is a list of outdoor attractions for people of all ages to enjoy. For additional information on these and other outdoor experiences, visit our Things to Do page and click on Attractions, Golf, Sports, Recreation & Outdoors or Orlando Ecotourism.
Located about 30 minutes from Orlando and 10 miles from LEGOLAND® Florida, Bok Tower Gardens is one of Florida's first attractions and best-kept secrets. Voted Florida's "Best Garden," the National Historic Landmark was dedicated in 1929 as a gift of gratitude from Edward Bok, a humanitarian, Pulitzer Prize-winning author and world peace advocate. Bok Tower Gardens' nearly 700 acres of citrus groves, woodland gardens, nature trails, conservation lands and endangered plants are the perfect setting for visitors to explore breathtaking sights throughout the year.
Nestled in lush tropical foliage, the Central Florida Zoo's 23 acres of native gardens are home to more than 500 animals. The zoo also features an insect zoo and reptile house, a children's zoo with animals you can feed and pet, a splash playground and a ZOOm Air Aerial Adventures zip line. The zoo is located just off Interstate 4, about 20 minutes from Orlando.
Be effortlessly lifted up to 400 feet and experience breathtaking 360-degree views of surrounding Central Florida. Located at ICON Orlando 360, the heart of International Drive, ICON Orlando is the tallest observation wheel on the East Coast of the United States. The gradual rotation in one of the 30, high-tech capsules gives you an ever changing perspective. Each capsule contains Apple iPad Air tablets, which allow you to explore and learn more about the landmarks and surroundings in several languages.
Fun Spot America is Central Florida's only family owned Theme Park with two locations — Orlando and Kissimmee. Both of the theme parks provide the same level of fun, but they are distinct enough to allow for a completely different experience. Whether you are a thrill seeker or someone who prefers the lights and sounds of the arcade, the park offers plenty of fun for the entire family, including multi-level go-kart tracks that provide a one of a kind riding experience, as well as Orlando's only wooden roller coaster.
Have you ever fed a giraffe? At Giraffe Ranch in Dade City, Florida, you'll experience first-hand, the lives of giraffes and other species from around the world living under huge live oaks and open grasslands in a setting that is right out of Africa. Located in beautiful east Pasco County, 45 minutes north of Tampa, Giraffe Ranch is on 47 acres of rolling countryside adjoining Florida's second largest wilderness area, the Green Swamp, complete with huge live oaks, native orchids, lush pastures and ephemeral wetlands.
At 110-acres, Gatorland provides affordable-priced family fun. See thousands of alligators and crocodiles at the park, along with an aviary, breeding marsh with observation tower, Florida panthers, a petting zoo and even the Gully Splash Pad for the young ones. The park also offers one-of-a-kind reptilian shows, including the Gator Wrestlin' Show, Gator Jumparoo and the Up-Close Encounters show. Finally, take a ride on the new Screamin' Gator Zip Line followed by the Gatorland Express train.
Magical Midway Thrill Park is located on the famous International Drive and features two wooden elevated go-kart tracks, a fast track, bumper cars and bumper boats, a carousel and a Space Blast tower. The park is also home to one of the largest arcades in Orlando and the world's largest Sling Shot, which vaults riders 390 feet up with 360-degree flips. Even better, the park offers free admission and parking.
Get ready to enjoy swashbuckling fun for the whole family! The miniature golf experience, offers two championship, 18-hole courses, where you putt your way through mountain caves, over footbridges and under waterfalls. The attraction is open daily from 9 a.m. to 11:30 p.m. and has a beautiful picnic area for birthday parties, fundraisers and group events.
An off-road motor and fishing venue set in 230 acres of Florida countryside, Revolution is close to all major tourist attractions. At Revolution, you will be in the driver's seat for the guided adventure of a lifetime on one of its all-terrain vehicles, dune buggies or ARGO amphibious Mucky Ducks. Revolution also offers bass fishing on its private trophy bass fishing lake, as well as archery lessons and clay shooting. All equipment is included.
A rare and unique experience, Safari Wilderness Ranch is a world away from the hustle and bustle of civilization. Here you feel the silence, enveloped by an open vista of grazing animals surrounded by cypress domes and bay trees. Safari Wilderness Ranch is not a zoo or theme park. It is a natural adventure. The ranch's knowledgeable and experienced guides will tour you through large herds of exotic game over 260 acres of pristine wilderness. Tours are offered daily and by reservation only.
When it comes to Central Florida airboat tours, there is no comparison to Wild Florida. Travel deep into 4,200 acres of protected swamps, marshes and rivers that make up the Central Florida Everglades. Get an in-depth look at the gators, birds, eagles, trees and plants that can be found in the area's beautiful wetlands. Airboat tickets include free admission to the wildlife park and hands-on gator demonstration.
Indoor Attractions in Orlando for People of All Ages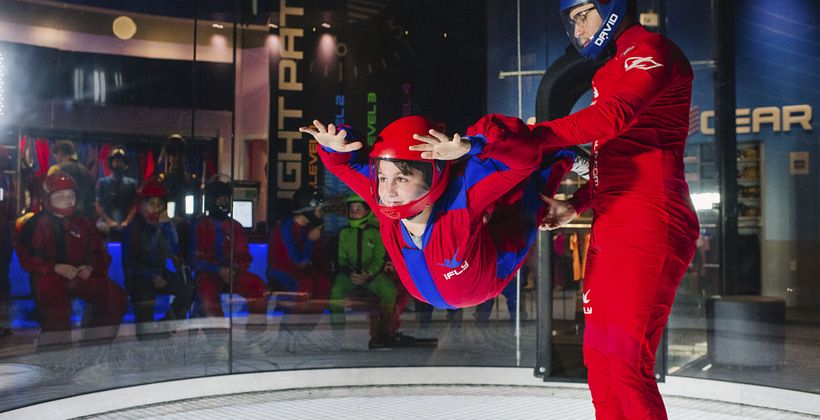 Rainy day during your vacation or simply looking for an indoor activity during your stay in Orlando? No problem! Orlando definitely has an indoor attraction for everyone — from making your own Crayola and indoor skydiving, to experiencing an upside down indoor amusement park. Browse through our list of top indoor attractions for you and your entire family or visit our Things to Do in Orlando page for additional information.
If riddles and puzzles are your thing, then you will not want to miss this game. At America's Escape Game, you and a team of 2 to 10 other people will be locked in a room. You will then have 60 minutes to solve riddles and puzzles to escape. Choose from different experiences, each providing a unique challenge to solve. This is great fun for a date, a family night or a team-building experience as working together is required to succeed!
This interactive journey uncovers how chocolate transforms from the bean into the creamy, dreamy chocolate bar. Join a personal chocolate tour guide, a handsome prince and a dragon sidekick as you go through a Cacao Tree Greenhouse, a one-of-a-kind Chocolate Museum, a Mystical River of Chocolate and a Bean-to-the-Bar Factory using old world machinery. You'll even have the opportunity to create a customized chocolate bar.
Imagination is your greatest tool at Crayola Experience. The family attraction is designed to be a full day of creative play and colorful fun with 26 hands-on activities. With two levels and 70,000 square feet, here you can name and wrap your own Crayola crayon, and learn how crayons are made in a live show starring animated crayon friends and a resident Crayonologist. You can also sculpt colorful creations at the Crayola Model Magic compound, watch as your digital art comes to life on a huge interactive wall and melt down crayons into shapes.
The 25,000-square-feet indoor center provides hours of fun for the entire family. Enjoy arcade games, laser tag, a jungle jump, bumper cars and 10 unique climbing walls. The family fun center also has a mini-bowling alley, a maze of lasers and a café featuring freshly baked pizzas, subs, burgers and more. With free admission (you only pay for the activities you want to play) and free parking, Hukoo's makes for a great indoor option during your vacation.
Get ready to fly! Experience the true free-fall conditions of skydiving without jumping from an airplane. iFLY's vertical wind tunnel technology creates a wall-to-wall cushion of air on which you can safely float. There's no parachute, no jumping and nothing attaching you to planet Earth. It's just you and the air. Children as young as three to adults can fly — a personal instructor will guide you through your flight.
Get closer to NASA than anywhere else on the planet! At Kennedy Space Center, visitors of all ages and from all over the world can go behind the gates of NASA to glimpse the future of space travel. Admission to the Visitor Complex allows you to see space shuttle Atlantis and the Saturn V moon rocket. You will also be able to experience Heroes & Legends — a new immersive attraction that brings the stories of NASA's pioneering astronauts to life. Located less than an hour from Orlando, the complex opens daily at 9 a.m. with closing times varying by season.
The world-renowned attraction known for its creation of detailed, wax figures that pay homage to A-list celebrities is now in Orlando. See lifelike stars from film and television, sports icons, musicians from all genres, and notable figures from history and pop culture. Each Madame Tussauds figure is a work of art, involving teams of professional artists and sculptors who spend months on extensive research to achieve the kind of astonishing realism that has been at the heart of the 250-year Madame Tussauds legacy.
Get ready for to "Eat.Bowl.Play"! Main Event Orlando combines dining, virtual and interactive game play, high-rope adventure courses, billiards, 61 big screen TVs and state-of-the-art bowling for high-energy fun. The 50,000-square-foot facility also offers full-service catering with private rooms, free Wi-Fi and the latest audiovisual technology for private events, such as holiday parties, company meetings, birthday parties and social gatherings.
If you think the building looks bizarre, wait until you see what's inside! The amazing 10,0000-square-foot "Odditorium" looks like it's falling into a Florida sinkhole. Witness hundreds of fascinating, outrageous and interactive exhibits that are sure to entertain the entire family. Explore an unbelievable variety of artifacts and displays in 16 unique galleries paying tribute to the odd and the strange, inspired by Robert Ripley himself. A self-guided, self-paced tour allows guests to fully enjoy Orlando's most bizarre attraction.
Dive deeper into an underwater world at the brand new SEA LIFE Orlando Aquarium. Soak up incredible views from Orlando's only 360-degree Underwater Tunnel, and feel your heart race as majestic sharks and graceful rays swim overhead. Gaze in awe at breath-taking creatures as you walk through incredibly themed habitats, then pop up in bubble-tanks for an astonishingly close view. Located at ICON Orlando 360, there's something for everyone to enjoy at SEA LIFE Orlando Aquarium, including a children's play area.
You've probably spent countless hours in front of a screen watching a hero save the world, solve a mystery, plan a prison break or repair a spaceship to return home. Now it's your turn! The Escape Game offers a break from ordinary life, allowing you to live the stories you love. Here's how it works: You and your team are locked in a room and have one hour to complete a mission. Escaping will require teamwork, quick thinking, determination and a sense of urgency! Choose from several escape adventures that will have you totally immersed in your new world.
The indoor amusement park for the mind combines education and entertainment with more than 100 hands-on exhibits for all ages. WonderWorks began as a top secret research laboratory on a remote island in the Bermuda Triangle. During an experiment gone awry, a man-made tornado unleashed through the laboratory, carrying the building thousands of miles away, landing it upside-down on top of a brick warehouse on International Drive. As you enter the upside down attraction, the ceiling will be under your feet and the ground will be above your head.
Unique Orlando Restaurants Offering Dinner Shows and More
Dining in Orlando just got better. In addition to the destination's family, group and fine-dining options, Orlando is home to unique restaurants where you can combine high-quality dining with great entertainment. Here's a list of our favorite venues. For additional options, review our Orlando Restaurants and Nightlife & Entertainment listings.
Knock three times, give the secret password and discover the era of mobsters, dames and prohibition at Capone's Dinner & Show. Since 1992, Capone's has entertained guests of all ages with its one-of-a-kind speakeasy and cabaret. It's truly a blast from the past! The show features singing, dancing, sensational costumes, stand-up comedy, romance and goofy gangster action. Interaction with the show's cast (always in character) is hysterical and a cherished memory for many guests. No two shows are ever alike!
While King Dining does not offer a show, the 30,000-square-foot venue offers a unique dining time like no other in Orlando. Kings is the perfect place to eat, bowl and lounge in a comfortable, fun and luxurious environment. The facility features 22 bowling lanes, billiards and ping pong tables, a Bocce ball court and two premium bars serving fun and innovative cocktails. The expansive venue also boasts an executive-chef designed menu, featuring award-winning American dishes with a twist.
Located near all the hotels and resorts on International Drive, Mango's Tropical Café is the place to go enjoy a lavish, dining experience. Inside of Mango's you will see the world famous Mango's Dancers perform on an Italian glass mosaic after walking past an amazing terrazzo mural. The outdoor covered patio spaces include a Sidewalk Cafe and a second-floor veranda. Surrounding them is the copper sculpture Mambo Bar, the mystical Samba Bar and the incredibly lovely Mermaid Bar.
Medieval Times Dinner & Tournament suspends guests between past and present with a heart-pounding show that tells a tale of devotion, courage and love. One of North America's most popular dinner attractions, here you'll travel through the mist of time where bold Knights on spirited horses display the incredible athleticism and thrilling swordfights that are the hallmark of this truly unique family entertainment. A sweeping musical score and sparking lights provide the backdrop for a magical experience that presses the boundaries between fairy tale and spectacle.
You are invited to step into the world of comedy, mystery and intrigue at Sleuths Mystery Dinner Shows. Here, you will mingle with unusual characters, where the action is fast and the laughter is contagious as you become the detective and solve the crime through a live interrogation. Dinner includes hors d'oeuvres, salad, choice of entrée and dessert, as well as unlimited beer, wine and soft drinks. This dinner experience is great for parties and people of all ages.
Don't miss one of Orlando's funniest dinner show. This hilarious show combines high-energy comedy improvisation with spectacular magic to thoroughly entertain audiences of all ages. During the show, you will enjoy unlimited fresh, hand-tossed pizza, salad, beer, wine, soda and dessert. A VIP package is available that includes WonderWorks All Access, Lazer Tag and The Outta Control Magic-Comedy Dinner Show. Reservations are required. Please arrive 30 minutes prior to the show.