Universal's Islands of Adventure
™
Hours
9:00 a.m. – closing times vary
Open 365 days a year
Great Time to Visit
Sept. 8th – Nov. 15th
Peak Time Frames
June 20th – September 7th, December 20th – January 3rd, March 1st – April 30th
dventurers, explorers, thrill seekers, book lovers, and those with wanderlust will be thrilled by the fascinating experiences that await them at Universal's Islands of Adventure™. Climb aboard Hogwarts™ Express, cast spells like Harry Potter, feel the rush of Marvel hero super powers, explore King Kong's territory, and face off with predatory beasts in Jurassic Park™. It just might be your best adventure yet.
Hours
9:00 a.m. – closing times varying
Open 365 days a year
Great Time to Visit
September 8th – November 15th
Peak Time Frames
June 20th – September 7th, December 20th – January 3rd, March 1st – April 30th
Ticket Types
These starter tickets are designed for visiting either Universal Studios Florida™, or Islands of Adventure.
One park per day.
Visit both parks: Universal Studios Florida™ and Islands of Adventure in the same day.
Multi-Day Admission Tickets are also available.
Travel Tip – When you're planning your visit to The Wizarding World of Harry Potter™, please note that Diagon Alley™ is located in Universal Studios Florida and Hogsmeade™ is located in Islands of Adventure. Jumping onboard Hogswarts™ Express (magical train transport between the two Harry Potter™ lands) is only possible with a park-to-park ticket.
Universal Express Pass
If you'd like to bypass regular lines and receive Express Access to participating attractions at Universal Studios Florida and/or Islands of Adventure theme parks, you'll want to purchase a Universal Express Pass. Express Access is actually a separate line with a shorter wait time at each valid attraction. You can purchase these tickets at the front gate of either theme park.

Participating attractions and rides:
• The Cat In The Hat™
• One Fish, Two Fish, Red Fish, Blue Fish™
• Caro-Seuss-el™
• Poseidon's Fury®
• The Eighth Voyage of Sindbad®
• Dragon Challenge™
• Jurassic Park River Adventure®
• Dudley Do-Right's Ripsaw Falls®
• Popeye & Bluto's Bilge-Rat Barges®
• The Amazing Adventures of Spider-Man®
• Doctor Doom's Fearfall®
• Storm Force Accelatron®
• Flight of the Hippogriff™

Attractions & Ride Guide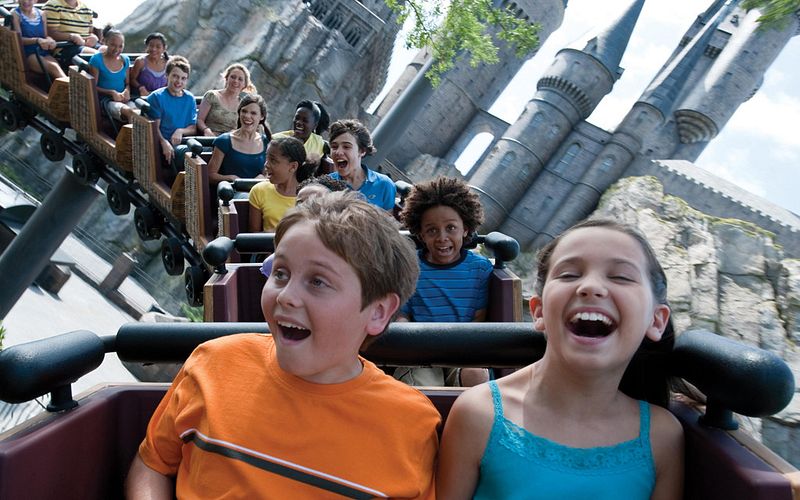 There's an adventure at every turn as you explore the innovative rides and attractions featured at Universal's Islands of Adventure: The Wizarding World of Harry Potter™, Marvel® Super Hero Island, Toon Lagoon™, Jurassic Park™, The Lost Continent, Seuss Landing, and Port of Entry
The Wizarding World of Harry Potter™
Hogsmeade™ is where you'll find Hogwarts™ Castle, as well as Harry Potter and the Forbidden Journey™. Keep in mind, though, there's much more to The Wizarding World of Harry Potter™ than what's found within Universal's Islands of Adventure®! Put on your cloak, grab your wand, and read all about it here.
The Amazing Adventures of Spiderman™
Match Marvel super hero, Spider-Man, step for step as he slings webs, climbs walls, and scales towering buildings, then topples to the sidewalk in a 100-foot drop. Stop the evil Sinister Syndicate from taking the Statue of Liberty hostage. Amazing special effects and 3D technology make being in Spider-Man's shoes an epic adventure.
Universal Express Pass
Caro-Seuss-el™
Hop on a multi-colored, whimsical creature from one of Dr. Seuss' many books. You'll be mixing and mingling with the likes of Elephant Bird, the Mulligatawnies from If I Ran the Zoo™, Cowfish from McElligot's Pool, and more. Horton the Elephant sits atop of the carousel as the official mascot of sorts. All and all, it's a gentle and wonderfully silly ride.
Universal Express Pass
The Cat in the Hat™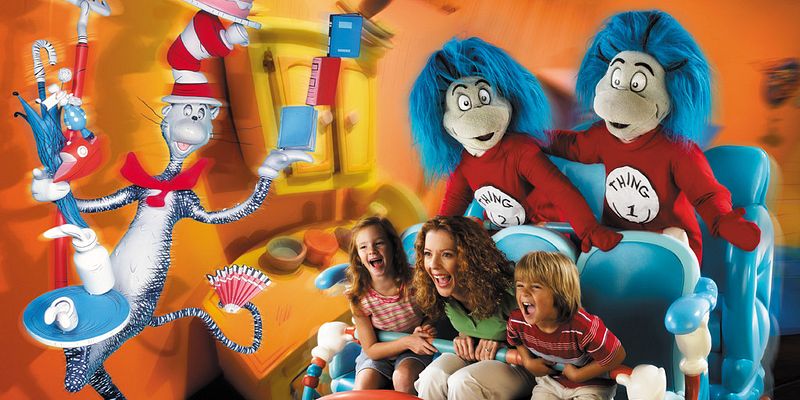 Expect plenty of shenanigans when The Cat in the Hat™ and Thing One™ and Thing Two™ conveniently arrive when mom and dad aren't home. It's whimsical and wonky fun experiencing the sassy reenactment of Dr. Seuss' beloved classic storybook.
Universal Express Pass
Doctor Doom's Fearfall®
You know it's going to be an ominous ride when you approach a pair of foreboding, 200-feet high towers. Beware, Doctor Doom is intent on collecting your fear in his latest evil contraption. Jet skyward 185-feet, then be whizzed back faster than the force of gravity.
Height restrictions – At least 52 inches (132 cm)
Universal Express Pass
Dudley Do-Right's Ripsaw Falls®
Deep in the Canadian woods, Hapless Dudley Do-Right, good natured Canadian mountie, is on a rescue mission. Ride along as Dudley dashes to save sweet Nell Fenwick from the clutches of Snidely Whiplash. The scoundrel has imprisoned Nell in a saw mill. Splash down on your log flume as the adventure unfolds. Expect plenty of action along the way––Ripsaw Falls features a 75-foot drop and an exploding dynamite shack.
Height restrictions – 44 inches (112 cm)
Children 44 - 48 inches (112 - 122 cm) must be accompanied by a supervising companion.
Universal Express Pass
The High in the Sky Seuss Trolley Train Ride!
There are twin tracks on this trolley ride that offer different experiences. One track gives you all the Seuss Landing™ scoop, while the other track continues with the Sneetches™ storyline introduced in the queue. Either way, it's loads of light-hearted fun. You may even get a chance to circle diners from above at Circus McGurkus Café Stoo-pendous.
The Incredible Hulk Coaster®
The Incredible Hulk's powerful force continues to reign supreme on this epic rollercoaster ride. Brace yourself as you propel upwards of 67 mph as you twist and turn along the track. Swirl upside down and jet through a mind blowing zero gravity roll. Hear the roar and experience the power of the Incredible Hulk, Bruce Banner's alter ego.
Height restrictions – At least 54 inches (137 cm)
Jurassic Park River Adventure™
As an unsuspecting Jurassic Park tourist, prepare to set off on a fascinating boat ride that quickly goes awry. Nudged off course by a menacing dinosaur, the power has shut down and you end up in the Raptor Containment area where hungry velociraptors are now on the loose. Things get worse by the minute when your only escape from the jaws of a mighty T-rex is an 85-foot drop into complete darkness.
Children 40-48 inches (102-122 cm) must be accompanied by supervising companion.
Universal Express Pass
One Fish, Two Fish, Red Fish, Blue Fish™
Climb into a colorful, comical fish vehicle and fly up and down and round and round. Inspired by the iconic Dr. Seuss tale, guests are tickled pink by fountains that squirt in time to the music.
No height requirement but children under 48 inches (122 cm) must be accompanied by a supervising companion.
Universal Express Pass
Popeye & Bluto's Bilge-Rat Barges®
Hang on tight as you spin out of control on a whirlwind river rapid ride. Aid Popeye the Sailor Man on a hilarious rescue mission to save Olive from smarmy Bluto. Bring your sense of adventure and a towel! Height restrictions – At least 42" (107 cm) and children 42" – 48" (107 - 122 cm) must be accompanied by a supervising companion.

Universal Express Pass
Pteranodon Flyers™
Take off on a flying swing under the wings of a giant pteranodon! The flight provides awesome views of Camp Jurassic while you take flight on a breezy ride with a prehistoric creature.
Height restrictions – Minimum 36 inches (91.4 cm)
Under 48 inches (122 cm) – supervising companion required
Skull Island: Reign of Kong™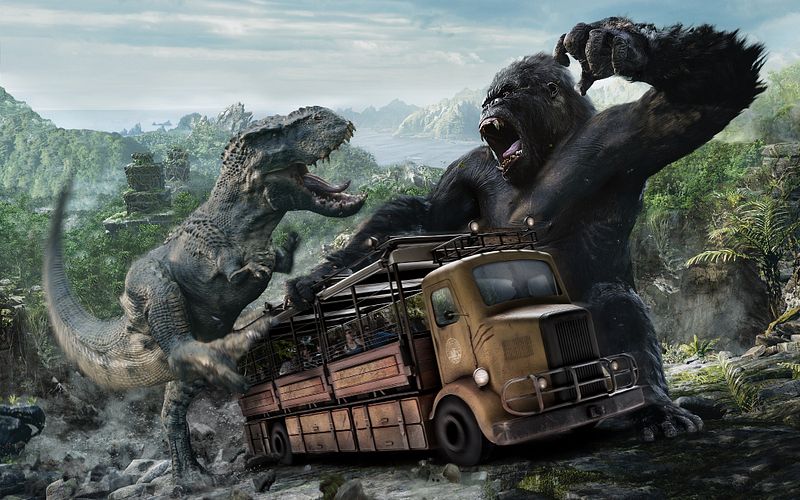 Inspired by Peter Jackson's King Kong movie, embark on a 1930s-style expedition to Skull Island. Traverse swamps and jungles swarming with prehistoric predators and terrifying creatures. Things get eerie as your crew descends deeper into the heart of the island. King Kong looms in the shadows roaring, ready to protect his domain and luckily your crew, as doom and monstrous danger befall your expedition.
Height restrictions – At least 36 inches (91.4 cm)
Children 36-48 inches (91-122 cm) must be accompanied by a supervising companion.
Universal Express Pass
Storm Force Acceleratron®
Professor Xavier and super heroine, Storm™, unite to foil Magneto's evil plot to defeat the X-Men™. Climb aboard his latest device and help Storm™ defeat the villain. Spin and twirl faster and faster helping Storm magnify her powers. Sure enough, the lightning and thunder that Storm™ summons help to extinguish Magneto's villainous plot.Children under 48 inches (122 cm) must be accompanied by a supervising companion.
Universal Express Pass
Entertainment / Live Shows
Oh! the Stories You Will Hear!
You're invited to an adorable read-along at this wonderful show. Set on a small stage, the show features big performances from some of your favorite Dr. Seuss characters: Sam from Green Eggs and Ham; The Cat in the Hat along with Thing One™ and Thing Two™; The Grinch™, and the Lorax. Watch them happily dance, and be a part of a truly original story time; where Dr. Seuss' beloved stories jump off the pages and onto the stage.
The Mystic Fountain
Be sure to make a wish at The Mystic Fountain located in Sindbad's Bazaar. The Mystic Fountain is home to a legendary Water Spirit––mischievous and very much alive! It breathes, speaks, spouts riddles, and tells jokes. Watch out as it may even shoot water at you if it suits his fancy.
Poseidon's Fury®
Guests are guided down the dimly lit ruins of the ancient Temple of Poseidon by an expert archeologist from the Global Discovery Group. Suddenly, the tour takes an unsuspecting twist as everyone is thrusted in the midst of a massive battle between Poseidon and Lord Darkenon. Fireballs, shooting lasers, and water explosions ensue. Will you escape doom and rise to the surface before the ancient temple comes crashing down?
Universal Express Pass
The Eighth Wonder of Sindbad™ Stunt Show
Set in a mysterious grotto strewn with shipwrecks, the intriguing storyline unfolds. It seems Sindbad and his sassy sidekick, Kabob, have set off to rescue Princess Amoura from the malicious witch, Miseria. It won't be easy as the obstacles emerge, like Miseria's creepy minions. Action, comedy, sword fights, and death defying stunts pull you into this hero's tale.
Universal Express Pass
Character Encounters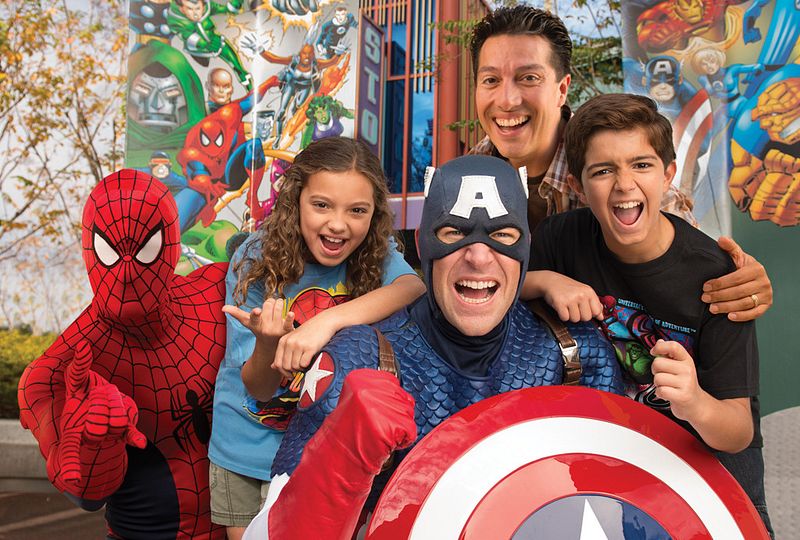 Spider-Man, Captain America, Wolverine, Storm, Green Goblin and Dr. Doom are the Marvel super heroes you'll encounter during your day at Universal's Islands of Adventure®

Character Zones
You can find Woody Woodpecker and Popeye & Olive at specified character zones and times.
Dining
Whether you prefer to socialize with super heroes or break bread with fellow world explorers, there's a variety of great dining options.
Captain America Diner
Expect Marvel super hero décor to be on full display as you enter this super hero diner. Families can sit down and hang out in the ultimate Marvel hero hangout while munching on cheeseburgers, chicken sandwiches, salads and more. Oh, and they just might cross paths with their favorite super hero.
Thunder Falls Terrace
Catch an incredible view of the Jurassic Park River Adventure at this clever eatery and outpost. Jurassic Park explorers will enjoy taking a break to satisfy their hearty appetites with BBQ ribs, rotisserie chicken, as well as soup and salads.
Mythos
Jagged rock formations, trickling waterfalls, and carvings of mythical ancient gods await guests at this table service restaurant in the Lost Continent. An eclectic menu offering (think everything from risotto to sushi to beef medallions) coupled with a mystical ambience make this a unique dining experience. The spanakopita dip, a well-loved appetizer, is a special treat.
Confisco Grille
Imagine hundreds of confiscated items from world travelers and explorers just lying about as if they were props on a movie set, that's the scene at this cleverly designed eatery featuring food from around the world. Take a break from exploring exotic places. There really is something for every world traveler here: house specialty pad thai, fajitas, salmon Santa Maria, and more.
Circus McGurkus Café Stoo-pendous
Eat under the brightly-colored big top and prepare to be wowed by the circus. Nutty creatures and quirky acrobats performing high above are sure to enhance an already playful ambiance. It's a kid-centric menu featuring alphabet soup, mac & cheese, personal pizzas, and more.
Play Areas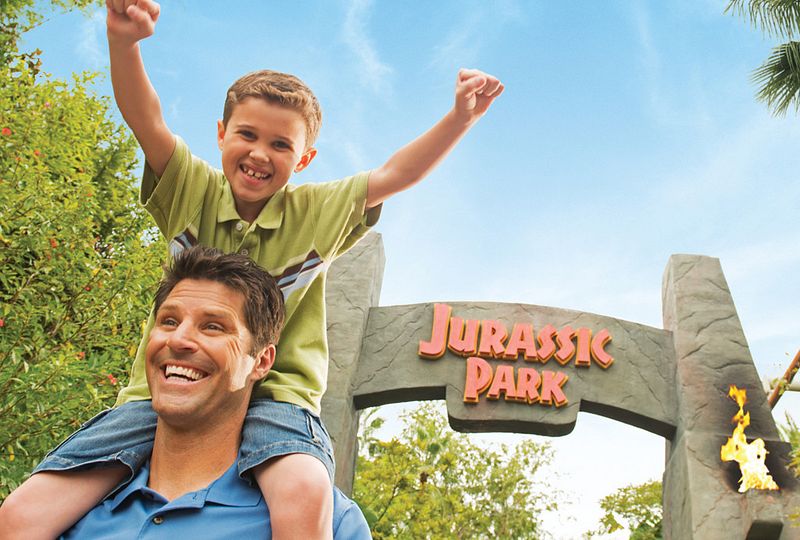 Stop and play at these cleverly crafted play areas that are bound to add to the fun.
Jurassic Park Discovery Center®
Make friends with an enormous, fossilized T-rex, test your dinosaur DNA to discover what kind of dinosaur you would have been, and head over to the nursery to examine dinosaur eggs. Don't be surprised if you catch a velociraptor hatching! These are just a few of the treats in store for kids at this interactive activity zone.
Camp Jurassic®
Transform into a junior explorer at Camp Jurassic® where kids can explore caves and an echo cavern, as well as wander through a mysterious amber mine. There's adventure and excitement at every turn. Don't miss the Thunder Lizard Trail where little ones can make the ground rumble and shake with the roar of a mighty dinosaur.
If I Ran The Zoo™
Find yourself immersed in the pages of Dr. Seuss' most popular books as you meet exotic and quirky animals like the tizzle topped, tufted Mazurka from the island of Yerka. Smile while your kids hitch a ride from a multi-humped, colorful cow or play a silly game of Tic Tac Joe. Kids love being amateur zookeepers to imaginary, whimsical beasts.
Me Ship, The Olive
It's all hands on deck at this colorful, imaginative play area inspired by Popeye's famous ship named after his sweetheart, Olive. Three decks of fun await kids as they climb cargo nets, toot horns, crawl through not-so-secret passageways, and whiz down slides. The second deck is famous for its water cannons where little guests can squirt unsuspecting passengers.
Shopping Hot Spots
Commemorate your travels and interactions with super heroes, magical creatures, and wild beasts with wonderful souvenirs that will live on long after you return home.
Marvel Alterniverse®
Fortify your collection of Marvel super hero stuff with a creative mix of merchandise. Spot Spider-Man signing autographs and striking poses. Discover everything Marvel super hero: apparel, collectibles, mugs, toys, and amazing souvenirs.
Jurassic Park Outfitters
Take a break from exploring the jungles of Isla Nublar, and load up on plenty of Jurassic Park® goodies. There's no shortage of Jurassic theme outer wear, merchandise, memorabilia, and more. Oh, and you might want to pick up a beach towel if you just exited Jurassic Park River Adventure.
Cats, Hats & Things™
The Cat in The Hat™ and his mischievous cohorts are showcased in this fun-loving store, jam-packed with all things Dr. Seuss. Head over to the Converse sneaker wall where guests will be able to select Seuss socks and sneakers. Families will love the Thing One™, Thing Two™, and Thing Three™ pajama sets.
Islands of Adventure Trading Co.
Encounter a host of exploration-themed merchandise perfect for everyday adventures. Guests grin at the enormous banner outside of the shop promoting the largest selection of Islands of Adventure souvenirs. There's definitely a wide selection of wonderful items to satisfy a variety of ages and tastes.
Island Market and Export Candy Shoppe
Candy lovers and dessert lovers may never want to leave this purveyor of sugary confections. Once inside, guests will want to head straight to an enormous glass counter with a tempting display of candy, chocolate and caramel dipped apples and strawberries, brownies, chocolate turtles, and specialty candy.
Special Events
Grinchmas™
Who wouldn't want to experience Christmas like a Who down in Whoville? Come visit Seuss Landing™ and see as it undergoes a magical transformation into a delightful, wintery wonderland. The best part is the Grinchmas™ Who-liday Spectacular, a wonderful retelling of the holiday classic hosted by The Grinch™. Watch him steal the show as he retells how he gave back Christmas to the Whos.
Unique Experiences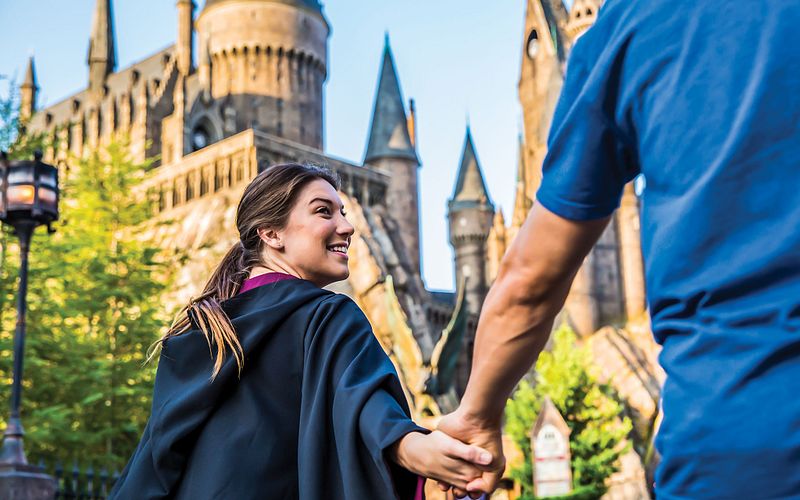 Live the Adventure, Red Carpet Style
Feel like a celebrity on this specialized guided tour. You'll be personally escorted through Universal Studios Florida™, Universal's Islands of Adventure™, or both theme parks.
This experience includes:
• Priority front of the line access
• Exclusive behind-the-scenes experiences
• Complimentary valet parking for one vehicle
• Reserved seating at shows
• Lunch at one of the 50+ dining venues

Please note separate theme park admissions are required for all VIP tours.
VIP Experience
Enjoy a guided tour, behind-the-scenes access, and priority front of the line access on a minimum of eight rides and attractions.